Outreach Ministries
Ministries
We offer multiple ways for our congregation to be involved in supporting the greater community.
We'd love for you to join us!
Food Distribution Ministry
Every second Sunday of the month we collect food for distribution to local food banks. This project is a vital part of our congregation's outer mission. Collectively, we thank you for your contributions each month.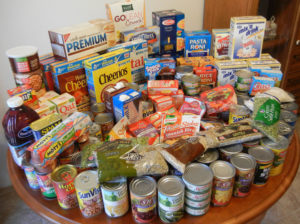 St. Pete Free Clinic
We partner with the St. Pete Free Clinic by donating items that are in high demand. You may help fill this need by donating some of the following items: toilet paper, shampoo, razors, deodorant, toothpaste, toothbrush and body wash. Your support is greatly appreciated.

Sisters of the Holy Cross Stamp Ministry
Bring your canceled stamps for this helping ministry with the poor.  We collect commemorative stamps, foreign mint stamp sheets and blocks, US. mint strips and plate blocks, foreign stamps, album collections, tourist postcards and first day cover post cards.  Each quarter we submit our collected donations.  Questions: contact at [email protected]
Sagua La Chica Cuban Med Center
We collect simple medical supplies for Cuban medical center which are taken flown to Cuba quarterly.
Hope for Justice
Put an end to human trafficking.  For more information on the subject, to donate and support their efforts, visit their website at hopeforjustice.org
Clothing for men and women assimilated from jail
We deliver on a quarterly basis men's and women's T-shirts, socks, soft sweatpants/shorts, and other clothing items in all sizes for persons who are newly released from jail.  Often these persons have no clean clothes to return home.  Won't you help by checking through your own surplus of clothing you can offer to the least of your brothers and sisters.  Mostly need right now – socks.
FLIP TOP/POP TOPS
Start collecting those soda and aluminum can flip tops for our fundraiser.  A container for drop off is in the narthex.